Indian protestant bishop arrested under conversion law
Auxiliary Bishop Paul Muniya of the Protestant Shalom Church has been falsely implicated by a local man, his son says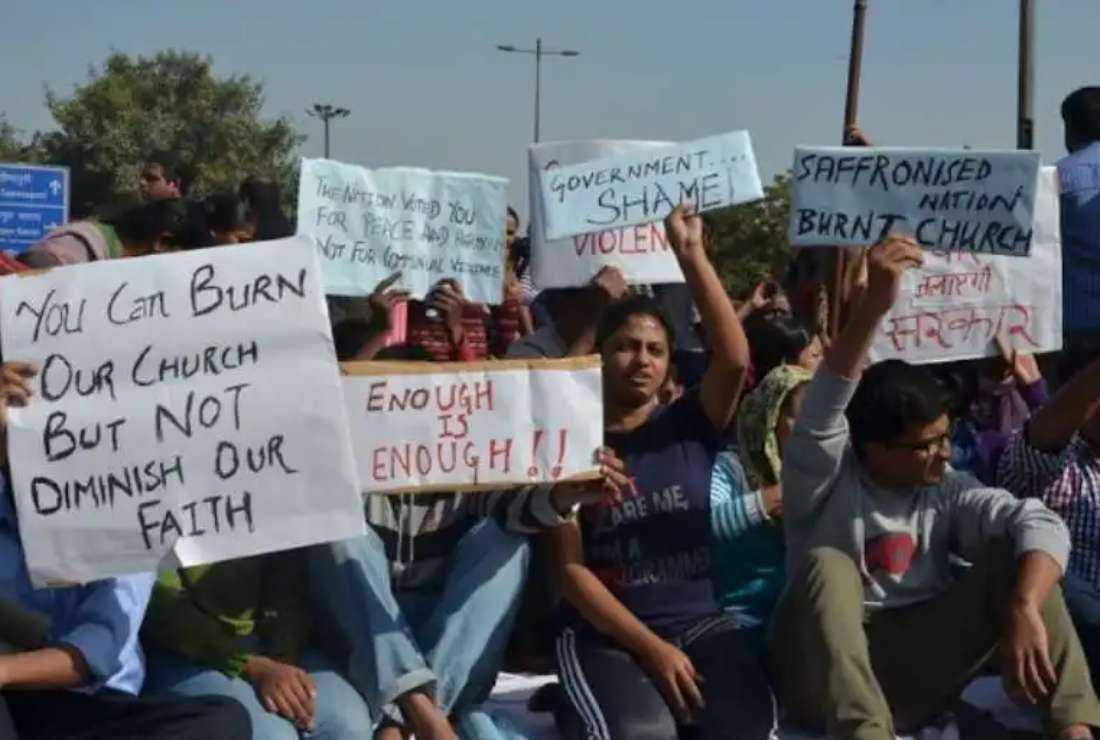 Indian Christians protest in New Delhi in 2014 against the burning of a church in the national capital. (Photo: Bijay Kumar Minj/UCA News)
A Protestant bishop in the Central Indian state of Madhya Pradesh has been remanded to judicial custody over allegations he violated the provisions of the state's stringent anti-conversion law.
Auxiliary Bishop Paul Muniya of the Protestant Shalom Church in the Jhabua district, inhabited predominantly by tribal communities, surrendered to the local police on Feb. 23 to comply with an order issued by the Madhya Pradesh High Court.
"The high court order said he would be granted bail once he surrendered to the police, but instead he was sent to jail," the bishop's son Kaleb Muniya told UCA News on Feb. 24.
Police charged Bishop Muniya under the state's anti-conversion law following a complaint by local resident Kailash Bhuria on Jan. 11.
Bhuria alleged that he was being intimidated to attend prayer services by the bishop and Tita Bhuria, a church elder. The duo in September last year took him to a nearby church and sprinkled water on him, gave him a Bible and a cross, he said.
The bishop accompanied by the church elder also visited his house in January and threatened to ostracize him from the village for not attending prayer services.
The police arrested the church elder while the prelate approached the local court for anticipatory bail and further moved the high court, which granted him relief on the condition that he surrenders himself to the police.
"It is true. The high court said bail will be granted once he surrendered to the police. But the lower court cited a technical issue and sent him to judicial custody," Kaleb said.
The bishop's son said the complaint was "totally false" as his father never visited the village of the complainant nor did he meet him.
"It is part of a well-orchestrated campaign against us [Christians] to defame us," he said.
Father Rockey Shah, the public relations officer of Jhabua Catholic diocese, said it is true that certain Hindu nationalist groups are targeting Christians and their institutions.
"They are using various social media platforms to spread fake stories of religious conversions against us," the priest told UCA News.
Some 70 people, mostly pastors, have been booked in the tribal-dominated district allegedly for violating the provisions of the state's anti-conversion law, but the administration has so far found no evidence against them.
Hindu mobs openly threaten to destroy the places of worship and other institutions run by Christians in Jhabua by alleging they were illegally built.
Christians account for about 4 percent of the district's one million people while Hindus, which include a number of indigenous tribes, comprise 93 percent and Muslims about 2 percent.
source : https://www.ucanews.com/news/indian-protestant-bishop-arrested-under-conversion-law/100478

DISCLAIMER:
Persecution Relief wishes to withhold personal information to protect the victims of Christian Persecution, hence names and places have been changed. Please know that the content and the presentation of views are the personal opinion of the persons involved and do not reflect those of Persecution Relief. Persecution Relief assumes no responsibility or liability for the same. All Media Articles posted on our website, are not edited by Persecution Relief and is reproduced as generated on the respective website. The views expressed are the Authors/Websites own. If you wish to acquire more information, please email us at: persecutionrelief@gmail.com or reach us on WhatsApp: +91 9993200020