Religious conversion is like seeking sex in return for a favour, says new minister Sarangi
Pratap Chandra Sarangi, MoS in the Modi govt, says conversions through fraud, force or allure should be treated as a crime, an inhuman act.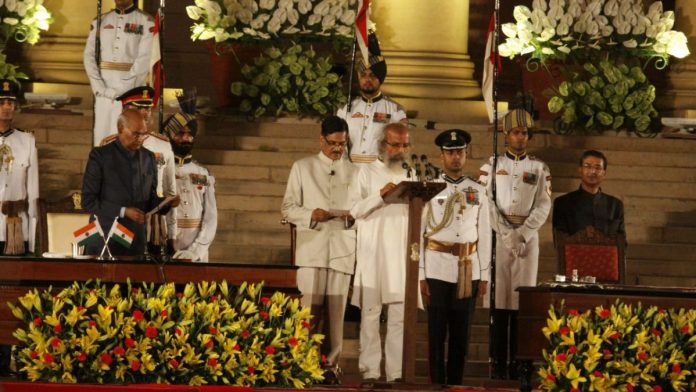 New Delhi: Religious conversions carried out through fraud, force or allure are similar to wanting to "physically enjoy a girl" in return for helping her, first-time Odisha MP and Minister of State for Animal Husbandry Pratap Chandra Sarangi told ThePrint in an interview.
Sarangi, who was the Odisha Bajrang Dal chief when Australian missionary Graham Staines and his two young sons were burnt alive by Right-wing extremists in 1999, said he is against conversion as it is contrary to the provisions of the Freedom of Religion Act, 1967.
"Conversion has been done throughout the country through fraud, force or allure. This is illegal and subject to punishment under this law," Sarangi said.
"Suppose somebody helped a girl in a medical or engineering college, and wanted to enjoy the girl physically. That would be treated as a crime, an inhuman act. Similarly, if somebody wants to convert or exploit someone's belief by giving some service or money, then that should also be treated as a crime — a crime against nature, a crime against humanity."
The MP from Balasore said many great men had opposed conversion. "From Swami Vivekananda to Mahatma Gandhi, nobody liked conversions," he said.
Staines' murder
Sarangi called allegations that he had supported Dara Singh, who has been convicted for killing Staines and his children, a "mad man's cry", and said he had condemned the brutal murder as an "inhuman act".
"Dara Singh had nothing to do with Bajrang Dal. He was an activist and was accused and convicted. As Bajrang Dal chief then, I had condemn that incident," Sarangi said.
"The Wadhwa Commission, the high court and the home minister — all these three agencies have said that I have nothing to do with it. On that day, I was in Bhograi, speaking at the Netaji Subhas Jayanti… so I can't say anything on this faltu (nonsensical) talk."
---
Also read: Cycle-riding Pratap Sarangi is 'Odisha's Modi' who took New Delhi by storm
---
'Godse might be a patriot but I can't say that'
Sarangi also denied that he had called Nathuram Godse a "patriot".
"I have never said that Nathuram Godse was a patriot. Godse might be a patriot, but I cannot say that. I have condemned the murder of Mahatma Gandhi. I have never supported the act," he said.
'I can serve gau mata'
Sarangi, despite being a first-time MP, has been given two portfolios — the newly-created Ministry of Animal Husbandry, Dairying and Farming, and the Ministry of Micro, Small and Medium Enterprises. He is the only one of the BJP's eight Odisha MPs to be given a ministerial berth.
Animal husbandry, Sarangi said, is not something he's a stranger to — in his home state too, he had been at the forefront of the cow protection movement.
"Animal husbandry is an important department. We can not only serve the people but also animal whose life is dedicated to the welfare of human society. I can also serve gau mata and other animals," he said.
Sarangi said one needs to look at animals, and especially cows, with a lot more sympathy and love. "We have to make them happy. Cows are being slaughtered illegally in cruel and inhuman ways. We have to find a remedy," he said.
Nehru's India is now Modi's India
Sarangi said PM Narendra Modi's nationalism thrust was one of the main factors behind the BJP's good show at the hustings.
"This PM is not a paper tiger. He is a real hero. And he cannot accept a single insult to Mother India. When our jawans were killed in Pulwama, Uri and even in reaction to terrorists from Myanmar, Modi ji sent air strikes and surgical strikes. Hundreds of terrorists were killed, even some Pakistani soldiers were killed," Sarangi said.
"Modi compelled Pakistan to release (Wing Commander) Abhinandan (Varthaman) within a few days. People have now started thinking that India is strong enough," he added.
"India is not as it was in 1962. Ganga mein bahut paani beh gaya hai (A lot of water has flown in the Ganga), and Nehru's India has now turned into Modi's India, which is altogether different."
---
Also read: Pratap Sarangi — the new entrant in Modi govt who stands out for his simplicity
---
On BJP's 'divisive politics'
Sarangi also targeted the opposition for insinuating that BJP won the elections by practicing divisive politics.
"Those who are saying 'Bharat ke tukde tukde karne tak humara jung jaari rahega' (Our fight will continue till India breaks up into pieces), 'Pakistan zindabad', those who are raising slogans in favour of (hanged terrorist) Afzal Guru — that is not divisive politics. But those who work for the unity and integrity of India from Kashmir to Kanyakumari, they are playing divisive politics," he said sarcastically.
source : https://theprint.in/politics/religious-conversion-is-like-seeking-sex-in-return-for-a-favour-says-new-minister-sarangi/245598/

DISCLAIMER:
Persecution Relief wishes to withhold personal information to protect the victims of Christian Persecution, hence names and places have been changed. Please know that the content and the presentation of views are the personal opinion of the persons involved and do not reflect those of Persecution Relief. Persecution Relief assumes no responsibility or liability for the same. All Media Articles posted on our website, are not edited by Persecution Relief and is reproduced as generated on the respective website. The views expressed are the Authors/Websites own. If you wish to acquire more information, please email us at: persecutionrelief@gmail.com or reach us on WhatsApp: +91 9993200020