INDIA: Ambassador receives petition about persecution of Christians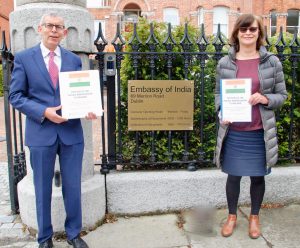 On 8 July, the Indian Ambassador to Ireland, Mr Sandeep Kumar, welcomed a Church in Chains delegation to the Indian Embassy in Dublin to discuss the persecution of Christians in India. Mr Kumar told the delegation – comprising Pamela Coulter (Advocacy Officer) and David Turner (Director) – that the meeting was the first that had been held with a visiting delegation of any kind at the embassy since the Covid-19 pandemic began.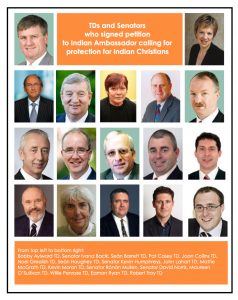 The main purpose of the meeting was to formally present a petition signed by seventeen TDs and Senators in late 2018 expressing concern about the growth of attacks on Christians by Hindu militants. The presentation of the petition had been delayed for a long time as Church in Chains had been told at a previous meeting in March 2019 that, while the embassy was willing to engage in dialogue with Church in Chains, "extra permissions" would be needed from the Indian Foreign Ministry before the Embassy could receive the petition.
The meeting took place following a number of contacts between Church in Chains and the Embassy and the sending of letters from Church in Chains supporters asking the Ambassador to receive the petition.
Attacks on Christians
In response to a question from Pamela Coulter about what actions the Indian government might take to stop attacks on Indian Christians, Ambassador Kumar stated that India has a secular constitution and grants freedom of religion. He said that governing the country is an extremely complex task as the vast population (1.3 billion people) is extremely diverse. He pointed out that law and order is the responsibility of state governments within the country rather than the federal government.
When Pamela Coulter stated that in many cases police seemed to take no action against the perpetrators of attacks on Christians, Ambassador Kumar stated that he did not think such inaction was widespread and questioned why police would take no action, to which David Turner responded that it was likely to be either because the police sympathised with the attackers or were afraid of the attackers.
Mr Somnath Chatterjee (Counsellor with responsibility for Political Affairs) referred to attacks on Christians as "isolated" incidents, which David Turner disputed stating that the number of attacks on Christians is increasing year on year. He pointed to statistics from Church in Chains partner organisation Persecution Relief showing 527 incidents of persecution against Christians in 2019. When Ambassador Kumar asked what defined a persecution incident, David Turner replied quoting figures from Persecution Relief that in 2019 there were 199 cases of threats, harassment and intimidation of Christians and 104 cases of attacks on churches.
When Ambassador Kumar asked who was behind the attacks, David Turner stated that the vast majority were carried out by Hindu militants. The ambassador acknowledged that the activities of militants was a problem in India and complained that they gave Hinduism and India a bad name.
Anti-Conversion Laws
Pamela Coulter asked the ambassador if he was in favour of  the "anti-conversion" laws that have been passed in ten Indian states or if he viewed them as a threat to religious freedom. Ambassador Kumar replied that, as a public servant, he could not comment.
Pamela also asked the ambassador about recent international reports about persecution of Christians in India, including the designation by the United States Commission on International Religious Freedom of India as a Country of Particular Concern. Mr Chatterjee responded that the Indian government had rejected this report and Ambassador Kumar went on to point out that there were many problems in the USA which had been recently highlighted by the "Black Lives Matter" campaign.
Conclusion
As the hour-long socially-distanced meeting drew to a close, David Turner and Pamela Coulter both thanked the ambassador for his time, commitment to dialogue and willingness to receive the petition.

DISCLAIMER:
Persecution Relief wishes to withhold personal information to protect the victims of Christian Persecution, hence names and places have been changed. Please know that the content and the presentation of views are the personal opinion of the persons involved and do not reflect those of Persecution Relief. Persecution Relief assumes no responsibility or liability for the same. All Media Articles posted on our website, are not edited by Persecution Relief and is reproduced as generated on the respective website. The views expressed are the Authors/Websites own. If you wish to acquire more information, please email us at: persecutionrelief@gmail.com or reach us on WhatsApp: +91 9993200020