At an October 17 Trucks for Trump Rally in Tennessee, a pastor named Bryan Nerren took the stage to speak about religious persecution in India under Prime Minister Narendra Modi. The topic isn't exactly top of mind among the Trump faithful, but Nerren did his best to make it relevant. Among Modi's early chores, attendees were informed, was to alter the balance of the Supreme Court to ensure it supported his anti-Christian agenda—just as Trump claims Joe Bidenand Kamala Harris will "pack the court" if they are elected, Nerren said. Modi suppresses dissent just as the American left does, he claimed.
The speech elicited cheers. Not bad, considering that as recently as a year ago Nerren wasn't sure he was even a supporter of the president—though there was no hint of apprehension at the truck rally. And for good reason, Nerren tells Newsweek: "Trump saved my freedom…and saved my family."
The 59-year-old pastor from Tennessee, a husband, father of two, including a 30-year-old daughter with special needs, and grandfather of three was a captive in India for seven months and 17 days, a victim of the Modi regime's hostility to Christians even as Trump praises the prime minister for advancing religious freedom.
Prominent evangelicals like Franklin Graham, a Trump confidant, argues the president's befriending of Modi—including appearing with him in September at a "Howdy Modi" event in Houston—is a necessary step toward improving the lives of 65 million Christians living in India, where they are persecuted by the Hindu majority. It is against this backdrop that Nerren was seized on October 5, 2019, on his way to deliver $40,000 to needy children in Nepal, thus becoming a pawn in a high-stakes game of political intrigue at a precarious time in U.S.-Indian relations.
Or, perhaps, it was just about the money.
For 18 years straight, Nerren has visited Nepal and Northeast India to assist local Christian ministries that are helping children escape poverty. On his most recent trip he was escorted by a couple of friends and all three were fingerprinted and photographed at the airport in Delhi where their passports were stamped with India Tourist Visas. They had eight hours, plenty of time to verify all of their documents were in order, before their flight to Bagdogra in India's Siliguri area of West Bengal, where they were to meet friends who would ultimately take them to Nepal.
While passing through security for their flight to Bagdogra, the trip started to unravel. It began innocently enough when an officer noticed the men had two fanny packs, each with $20,000, and seemed to have no problem with the large sum of money since it was not illegal to bring it into India.
"The only thing that the security officer wanted to know was if I was a Christian; if I would be meeting Indian Christians, and would any of them receive any of the money," Nerren recalled. Two more officials questioned him about his Christianity, and then a fourth, who shook his hand, returned to him his passport and the $40,000 and sent the three men on their way to board their domestic flight to Bagdogra. Later, the men realized they'd been "set up" to take a huge fall, according to Nerren, who provided Newsweek with 60 pages of legal documents and letters addressed to Indian officials from U.S. lawmakers, the FBI and the president that, he says, verify the accuracy of his story.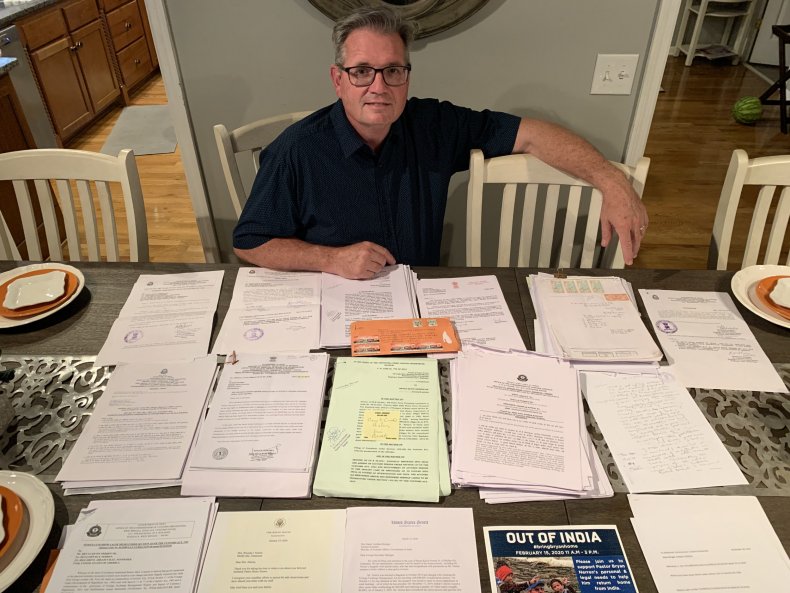 On arrival at the airport in Bagdogra, Nerren was ushered into a room where five officials grilled him for eight hours, accusing him of failing to fill out the proper forms for carrying so much money. Nerren told them that the officials in Delhi were aware of the cash and never asked him to fill out additional paperwork but, if they had, he would have been happy to do so. They even checked his Facebook page, where they learned the purpose of the Indian trip was, in addition to their delivery of a sizable donation, to attend a gathering to honor an acquaintance who was celebrating the 25th anniversary of his Christian Children's Education Fellowship. The officials even called the man to confirm that Nerren and his two companions were law-abiding visitors with charitable intentions—not that it helped.
Nerren realized he'd been set up when he overheard his inquisitors arguing about how much money they should confiscate before releasing him. In the end, his two friends were set free and the Indian officials withheld the entire $40,000, while Nerren was arrested and whisked off to a medical center as a precursor to jail. The female doctor who examined him asked if he's Christian. "I tell her, 'yes I am,' and she spits on my feet. Most people, including this woman, chew tobacco mixed with betel nut and lime. The betel nut is like cocaine," said Nerren.
Fortunately, the doctor determined that Nerren suffers from sleep apnea, and he should not be separated from his CPAP machine, thus he was only in public lockup (sharing a cell with 66 other men) for about five hours before he was taken instead to a smaller cell at a hospital that he later learned from his attorneys is nicknamed "the Morgue." The entrance was blocked by hundreds who sought medical care, so the customs officials snuck him into the emergency ward via a back door. "You can smell infection, blood and death.… There are puddles of urine," Nerren recalled.
Nerren said he later read in a newspaper while he was in prison that 10 people died in that hospital the one night he spent there, and he witnessed three of those deaths. One of them was a man they moved so that Nerren could use his bed because it was the only one near an outlet to plug his CPAP machine into. The next day, he was assigned a lawyer by the man who arrested him at the airport. His Nepali friends eventually found their way to the court, but Nerren wasn't allowed to speak to them. He had been told he'd be fined $200 and released, but it was not to be.
"I was in this cage, then allowed to appear in front of the judge, but not allowed to speak. Only my lawyer could speak for me," recalled Nerren. "The prosecutor said, 'This man is trying to smuggle $40,000 into India without documentation.' My lawyer argued that if they gave him time he could provide evidence of my innocence."
The judge set bail at $1,250 and told Nerren that an Indian citizen with at least five acres of property needed to sign for his release. They had his money, and he didn't know any Indians with that much property, so he was thrown into a truck and spirited away to a prison in Siliguri.
"I was the only American; the only white person there. Guards were mean and rough," Nerren said. "The second day, the warden gathered us to tell everybody that in no way was I to be harmed because I was an American. It was an Indian prison; when it rained, the water got into the cell and the rats jumped on my bed to keep from drowning."
After six days, he was released from prison, though he was not allowed to leave the country until authorities sorted things out, but his timeline reads like something from an episode of the Keystone Cops: A month after his release from prison, he appeared in court as ordered, but the prosecutor was a no-show. A month later, in court, the prosecutor said that Nerren should be freed and his passport returned to him, but a judge rejected the plan. A month after that, customs officials simply declined to show up at back-to-back hearings even though a judge had ordered them to be there. A few weeks after that, a judge refused to hear Nerren's case because customs officials failed to provide the proper paperwork, and on it went.
In the meantime, Nerren's adult daughter, Laura, who has been confined to a wheelchair nearly her entire life due to symptoms of cerebral palsy caused by a brain hemorrhage when she was 7 months old, contracted pneumonia in early December. Her weight dropped from 90 pounds to 73 pounds, and his wife was hospitalized with a heart condition. "I have been here for 69 days now, and my family needs me," Nerren pleaded, to no avail, in a letter to the Indian Ministry of External Affairs dated December 13, 2019.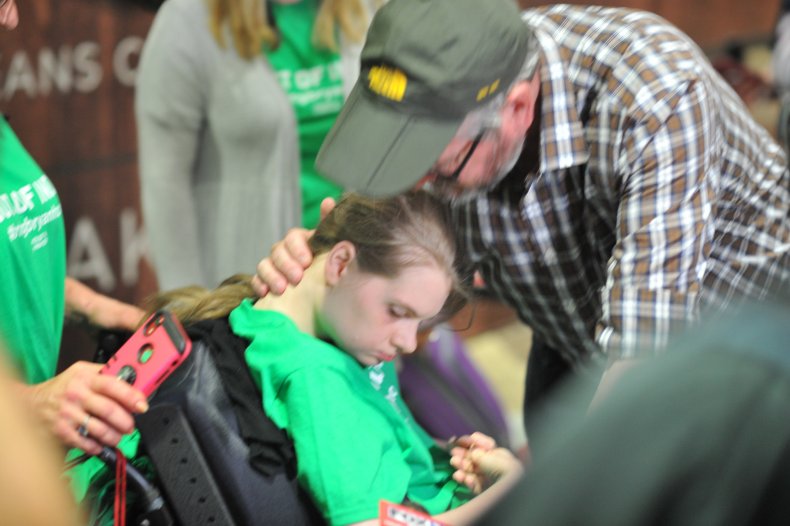 Back in Tennessee, Nerren's wife of 41 years, Rhonda (they were married on her 17th birthday), was asking her friends for prayers and was in contact with the American Center for Law and Justice, which provided them with free legal counsel. "There was definitely another motive involved" in Nerren's arrest, "one which seemed to be triggered by his Christian faith," ACLJ senior counsel CeCe Heil told Newsweek.
Rhonda was also in touch with the U.S. State Department, which was useless for several months until Morgan Parker, chief consul at the American Embassy in Delhi, got involved. "The other guy we were dealing with was just filling a seat," she said.
"The U.S. Department of State and our embassies abroad have no greater responsibility than the protection of U.S. citizens overseas," a State Department official told Newsweek. "We do not discuss internal diplomatic discussion."
"I couldn't sleep. I have a full-time job and a daughter who needs constant care," said Rhonda, a hospital worker. "I was just trying to hold it together. I'm a little angry. Not at Bryan—at the system. I was missing the love of my life."
In a letter dated December 23, 2019, Abhijit Bhattacharyya, one of Nerren's attorneys in India, focused on the officials in Delhi who allowed his client to board a plane to Bagdogra knowing that when he arrived he'd be accused of failing to fill out a "currency declaration form." The letter calls authorities "irresponsible" and their conduct "arbitrary and whimsical," and the attorney accuses them of purposely hiding the proper paperwork from Nerren in a "high-handed" effort to frame him.
For a month, Rhonda wrote daily letters to Trump. "One day, I got home and there was a response from the president. He's got an entire country to worry about, but it was incredible to learn that he cared about what we were going through," she said.
"Thank you for taking the time to write to me about your beloved husband, Pastor Bryan Nerren," Trump wrote in his letter to Rhonda on January 27. "I recognize your steadfast efforts to ensure his safe return home and have shared your letter with my staff. May God bless you and your family."
While Indian officials showed little sympathy to Nerren's plight, a deadline of sorts was looming: Trump wanted the issue resolved before he was to make his inaugural visit to India, so a covert deal was struck, according to Nerren and his family. On February 24, Nerren traveled by car with Parker to the Indian border where he was to be released in Nepal.
"The president promised he'd bring up a diplomatic conversation about me and religious persecution, and Modi did not want to have that conversation on camera," said Nerren. Still, he refused to get his hopes up given the many times he had been disappointed.
"The Indian government kept telling me do this, do that. I even told Morgan [Parker] on the ride over that it was going to be another double-cross. Turns out I was right," Nerren said.
After sitting around for an hour at the border, Parker was told to drive Nerren back to where he came from, which was a small guesthouse in India owned by a Christian businessman in Nepal. Nerren, when not in jail or prison, had been living there, banned from leaving the country but at least semi-free to roam around a bit.
Nerren had been charged with attempting to evade duty by not disclosing the $40,000, even though he clearly did disclose it and was ready to pay any duty necessary had any authority asked him to do so. But around the time of the debacle at the border, Indian officials told Nerren that they were also building a religious-conversion case against him and that he'd likely serve three to seven years in prison if found guilty of either crime.
It's not illegal to be a Christian in India, "but in certain provinces, if you convert someone from one religion to another and you baptize them, you can be prosecuted," said Nerren. "I read a lot of articles about this when I was trapped, and they said Modi would like all of India to be a Hindu country."
While the secret effort to spirit Nerren across the border failed, there was another dramatic step afoot, thus on March 12, U.S. Senators Marsha Blackburn of Tennessee and James Lankford of Oklahoma, along with congressmen Scott DesJarlais of Tennessee and Jody Hice of Georgia, all Republicans, fired off a stern letter to India's ministry of external affairs demanding Nerren's release.
The lawmakers attempted to tug at the official's heartstrings with an update on the declining health of Nerren's special-needs daughter before noting that their prisoner had already agreed to pay a $7,000 fine that had been imposed on him. Then they played their trump card by adding: "The U.S.-India relationship is a vital and healthy one, as exhibited by President Trump's recent visit to Delhi. We do not wish for bureaucratic posturing in this case—which can now be simply closed according to Indian law—to become an impediment to that relationship."
The letter was crucial, since Nerren was still getting nowhere while entangled in the Indian legal system. One day prior to that letter, for example, Nerren was supposed to appear in court for the umpteenth time, but for the third time since his ordeal began, the courtroom was shut down due to the death of a lawyer, this time it was a young man who overdosed on drugs and alcohol. Before that, a 32-year-old man committed suicide, and prior to that an older man died of natural causes. "Any time a lawyer dies, they close the court. It's very bureaucratic and lackadaisical. I had to pay $50 of bribe money to the prosecutor every time we had to appear in court or he wouldn't even show up," recalled Nerren.
Much of India locked down for the coronavirus emergency on March 25, but the wheels of justice, such as they were, had already been set in motion by the letter from the U.S. senators and congressmen, and on April 1 Trump called officials with the Indian government to demand Nerren's release, according to a conversation Nerren had with Trump after his release. "He remembered the exact date. Donald Trump is the most intelligent person I've met in my life. If he sees it, he remembers it," said Nerren.
Even then, Nerren had to endure a new set of bizarre mistakes that would have been comical had he not have been stripped of his freedom for seven months already. On May 11, the judge failed to show up at Nerren's release hearing; on May 12, the judge was there, but the prosecutor was not; on May 13, both were there, but the prosecutor had the wrong paperwork. Finally, all the pieces were in place and a judge dropped all charges and returned Nerren's passport after he was made to write a letter forfeiting the the entire $40,000 and agreeing to pay an additional $7,000 in "fees."
Nerren arrived back home in Tennessee on May 19, and the White House contacted him to see if he'd like to meet with Trump and appear in a video with five other Americans who endured similar situations abroad. The video was presented at the Republican National Convention.
"We have six incredible people who were held hostage by various countries, and I'm very pleased to let everybody know we brought back over 50 hostages from 22 different countries," Trump said from the White House with Nerren seated about 10 feet away from him. "The darkest moment of our whole time…your letter to my wife came, and it really gave her the hope and the peace," Nerren told the president.
"I was happy to do it," Nerren told Newsweek about the video. "President Trump got me home from India. It was the least I could do. He's a very kind, compassionate, American patriot. What he does on TV is great theater. In person, he genuinely cares."
Added Rhonda: "The people who took that $40,000 can split it up between them, but that money was meant for the kingdom of the Lord and it could have helped a lot of children."
Newsweek contacted the Indian Embassy in Washington and the Indian Consulate in New York but did not hear back from either entity in time for publication.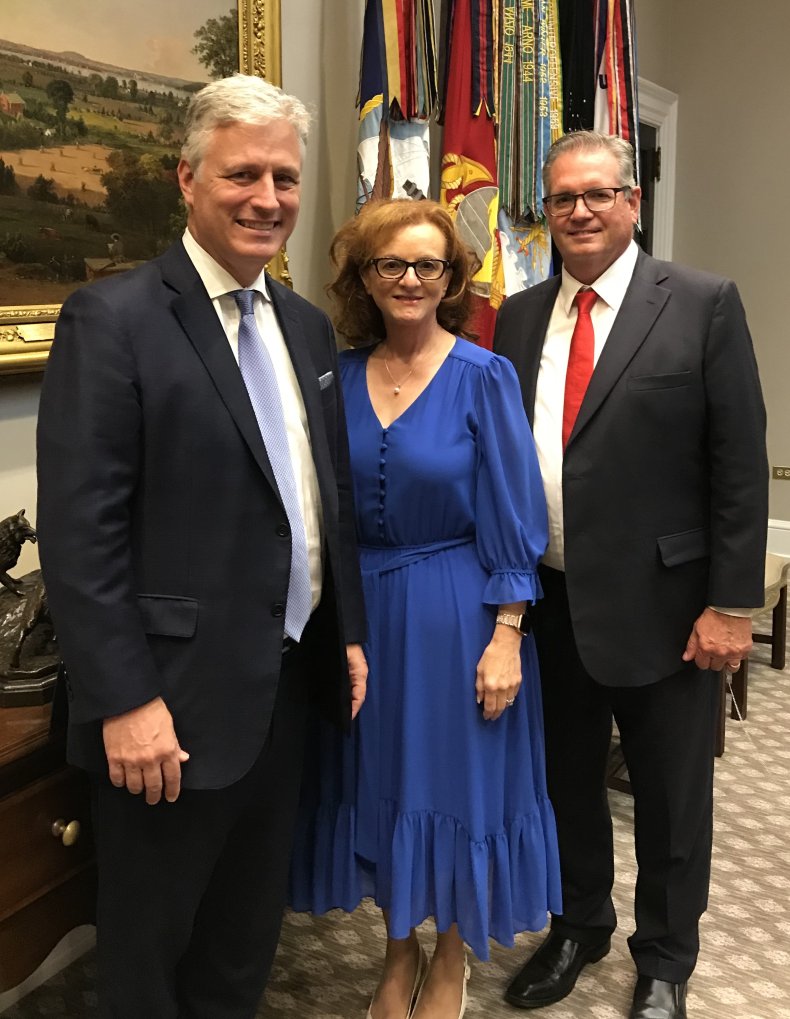 DISCLAIMER:
Persecution Relief wishes to withhold personal information to protect the victims of Christian Persecution, hence names and places have been changed. Please know that the content and the presentation of views are the personal opinion of the persons involved and do not reflect those of Persecution Relief. Persecution Relief assumes no responsibility or liability for the same. All Media Articles posted on our website, are not edited by Persecution Relief and is reproduced as generated on the respective website. The views expressed are the Authors/Websites own. If you wish to acquire more information, please email us at: persecutionrelief@gmail.com or reach us on WhatsApp: +91 9993200020