Country going through troubled times… but it's a temporary phase: Pranab Mukherjee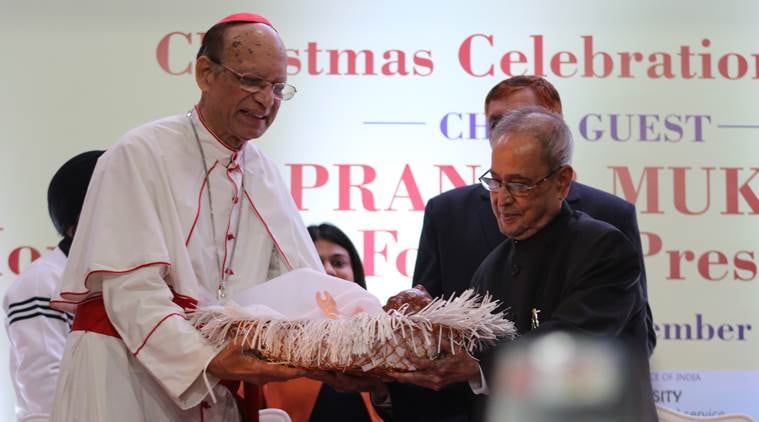 Former President Pranab Mukherjee Thursday said the country is going through troubled times but it was a temporary phase as Indians will "tenaciously fight it in order to re-establish the country's unique national identity — etched in our Constitution". Mukherjee was speaking at the Christmas celebrations organised by the Catholic Bishops Conference of India (CBCI) in New Delhi.
"Divisive tendencies, intolerance and prejudiced 'fear of the other' seem to be defining us in place of the composite and yet diverse nation that we emerged in over 5000 years of co-existence, acceptance, adaptation and assimilation. However, it is my considered belief that this, like in the past, is a temporary phase," Mukherjee said in his Christmas message.
On the growing intolerance, Mukherjee said the Constitution should be the only guiding ideology in the country as it was crucial for the growth of the country. "Our freedom to practice and propagate our religion, the freedom to set up educational institutions, to choose any occupation, all are important and they must be safeguarded. This is the bedrock of our democracy and the foundation for our strong growth… Constitutionalism, in its letter and spirit, should be our only guiding ideology."
Mukherjee also highlighted the work carried out by the Church in India. "The most enduring image of the Catholic Church in India is the crores of Indians, who get educated in schools and colleges set up by the Church and millions of patients who get treated in the Holy Family Hospitals."
Also at the celebrations were Union Minister Alphons Kannanthanam, Justice (retired) Kurien Joseph, Meghalaya Chief Minister Conrad Sangma and CBCI president Cardinal Oswald Gracias among others.
The Indian Express

DISCLAIMER:
Persecution Relief wishes to withhold personal information to protect the victims of Christian Persecution, hence names and places have been changed. Please know that the content and the presentation of views are the personal opinion of the persons involved and do not reflect those of Persecution Relief. Persecution Relief assumes no responsibility or liability for the same. All Media Articles posted on our website, are not edited by Persecution Relief and is reproduced as generated on the respective website. The views expressed are the Authors/Websites own. If you wish to acquire more information, please email us at: persecutionrelief@gmail.com or reach us on WhatsApp: +91 9993200020