'Christian plot' to malign ayurveda and yoga: Ramdev aide
Ishita Mishra | TNN

 | 

Updated: May 26, 2021, 10:14 IST
DEHRADUN: Amid a raging tussle between theIndian Medical Association (IMA) and Ramdev over the yoga guru's "allopathy killed lakhs" comment, Patanjali chairman and Ramdev's top aide Balkrishna took to Twitter on Tuesday to say there was "a conspiracy to convert the entire country to Christianity and turn them against yoga and Ayurveda".
IMA's Uttarakhand chapter responded by writing to chief minister Tirath Singh Rawat and demanding that Ramdev be booked under the Epidemic Diseases Act.
"As part of the conspiracy to convert the entire country into #Christianity, #Yoga and #Ayurveda are being maligned by targeting @yogrishiramdevjee. Countrymen, wake up now from the deep slumber otherwise the generations to come will not forgive you," Balkrishna tweeted, attaching a clip from a website that had the photo of IMA president Dr JA Jayalal. His tagline asked: "Doctor or pastor".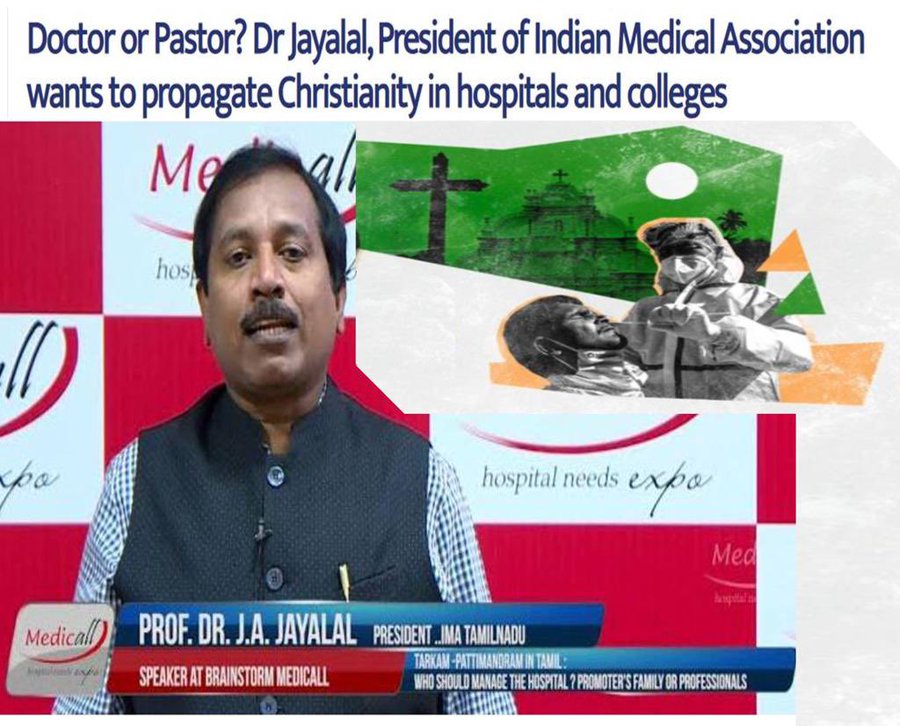 By Tuesday 9.15pm, the post had over 3,227 likes, 1,728 retweets. Later in the day, Balkrishna proceeded to tweet a series of screenshots of articles to support the conspiracy theory.
Dr Jayalal told TOI, "You can see that this is how they respond to serious issues. My conscience is clear. I have never done or intended to do anything with religion in mind. You can go to the websites and read the articles to see how they are twisting it. IMA remains a secular and apolitical organization."
Jayalal's predecessor, former president of IMA Dr Rajan Sharma, said, "Ramdev and his entire machinery had stooped to the lowest level. How do doctors respond to this? Both Ramdev and Balkrishna were admitted at AIIMS when they contracted Covid-19. How ungrateful they are towards the people who treated them. All I can say is that they have stooped low by bringing religion into this issue," he said.
Dr NS Bisht, physician to the chief minister of Uttarakhand, said, "When Ramdev has so much to say against allopathy and the doctors practising it, he must have all the answers. Doctors are human, not God. They can get infected with fungus, bacteria or a virus like any other person. But I wonder if swamis are gods, why do they seek treatment at hospitals, why can't they treat themselves?"
When contacted, Balkrishna's secretary Gagan Kumar said he was in a meeting and not available for comments.
Three days ago, Ramdev was heard saying in a video while addressing a group of followers at the Patanjali Yogpeeth campus in Haridwar that "allopathy is such a stupid and bankrupt (diwalia) science whose various treatments for Covid like chloroquine, Remdesivir, antibiotics, steroids and now even plasma therapy have failed and cost the lives of patients…it is true that lakhs of people have died due to taking allopathic medicines during this pandemic. Their number is far greater than those who died due to unavailability of oxygen."
Though Ramdev had apologised for his remarks after health minister Harsh Vardhan intervened to say such "extremely unfortunate comments can break the morale of health workers", he was back the next day to ask "25 questions to IMA on allopathy".
source : https://www.google.com/amp/s/m.timesofindia.com/city/dehradun/top-ramdev-aide-sees-christian-plot-in-ayurveda-slight/amp_articleshow/82953093.cms

DISCLAIMER:
Persecution Relief wishes to withhold personal information to protect the victims of Christian Persecution, hence names and places have been changed. Please know that the content and the presentation of views are the personal opinion of the persons involved and do not reflect those of Persecution Relief. Persecution Relief assumes no responsibility or liability for the same. All Media Articles posted on our website, are not edited by Persecution Relief and is reproduced as generated on the respective website. The views expressed are the Authors/Websites own. If you wish to acquire more information, please email us at: persecutionrelief@gmail.com or reach us on WhatsApp: +91 9993200020